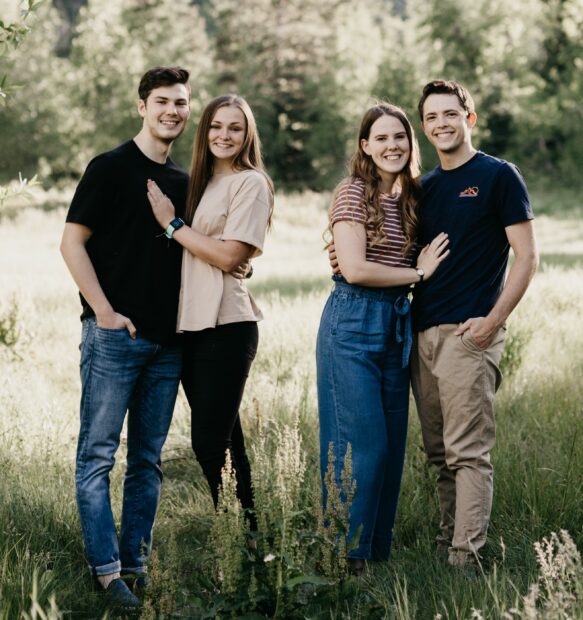 A Tale of Two Weddings
It was the best of times, it was the worst of times…
In May 2020, two of our kids got engaged: Carver, to his girlfriend, Marissa, and Erin, to her boyfriend, Chayston. All temples were closed at the time and, while we were excited about the engagements, we were disappointed to be planning civil weddings. Since Marissa was not yet endowed, the couple would not be able to be sealed, even if one of their two home temples opened up for live sealings. Their wedding date was set for August 22nd and every single day I prayed for a miracle that would enable both of these couples to be sealed in the temple on their wedding day. There did not seem to be much hope.
As the summer progressed, a handful of temples finally opened for live sealings – with the requirements that you lived in the temple district and were already endowed. Erin and Chayston were both endowed, and Erin's home temple, Hartford, was one of the few temples due to be opening. We were thrilled! We started making plans for their sealing in Connecticut and for a small, outdoor reception in our backyard. We bought flights, designed invitations, rented tents and tables and looked into caterers and photographers. However, on June 24 Governor Lamont announced that travelers coming to Connecticut would need to quarantine. Erin and Chayston would need to quarantine for two weeks before they could pick up their marriage license and enter the temple. Since they could not take off work for two weeks, a wedding in Connecticut was not going to work for them. We were back to square one. Fortunately, Chayston's temple (Oquirrh Mountain) was also open for live sealings. But, I was still saddened. If we held the wedding in Utah, our friends and family in Connecticut would be unable to attend. With no other good options available, we cancelled our Connecticut plans and began planning a Utah wedding.
Having temples open for live sealings did not solve Carver and Marissa's problems since Marissa was not endowed. I was still praying every day for a miracle. Finally, the church announced that a handful of temples, including Provo City, would open for live endowments on August 17th—Phase 2! – the week of the wedding. As soon as the news was announced, Carver emailed the temple. He heard nothing back. Surely the temple was flooded with requests. Marissa's father contacted the temple president and begged that Marissa be allowed to receive her endowment, just four days before the wedding. Incredibly, the temple president made it happen. Marissa's parents drove to Utah from Kansas on Tuesday and she received her endowment early Wednesday morning, only hours before she and Carver caught their flight to Kansas for a Saturday wedding. Incredibly, the two were sealed in the Kansas City temple on August 22nd. And Erin and Chayston were sealed in the Oquirrh Mountain temple two weeks later on September 5th. Needless to say, I wept tears of gratitude. My faith in the Lord grew. I know that He heard my prayers and that miracles had occurred.